Roof Repairs Dublin, Roof Installations Dublin, Flat Roof, Felt Roof, Tiled Roof, Asphalt Roof, Pitched Roof, Lead Roof, Slate Roof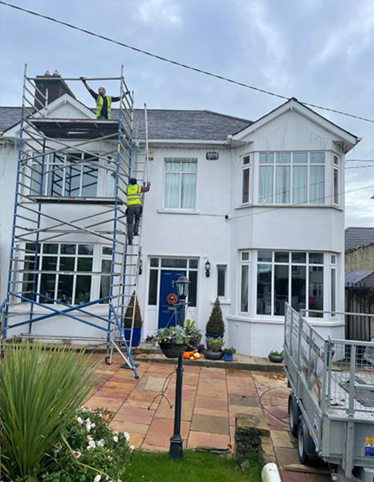 Need a roof replaced in Dublin? Call us today for a free, competitive quote.

Do you need a roof replacement on a Dublin building? Look no further than Roof Solutions, Dublin's roof replacement specialists with over 30 years' experience. Whether you own a commercial, domestic or historical listed building, we can help solve your Dublin roofing replacement and installation needs. Roof Solutions is confident that you will be satisfied with our services.
Dublin has a rich history going back hundreds of years. Because of this, Dublin buildings have many different types of roofs including flat roofs, felt roofs, slate roofs, lead roofs, and tiled roofs. Roof Solutions is ready to complete the work to the highest standard of excellence if you need to replace or install any of these roofs on your home or business in Temple Bar, Grafton Street, Smithfield, or any other Dublin location.
If you have a heritage listed building in Dublin, we will take extra care to ensure your roof replacement adheres to legal requirements. You can rest assured that we will pay attention to detail, we obtain the relevant permission for the specialist job.
We also replace roofs on more modern buildings, including domestic homes and commercial business properties in Dublin. Whether you have a flat roof, lead roof or any other type of roof, our experts will be able to ensure that you don't suffer from leaks anymore.
Example of roof that Roof Solutions can repair or replace
Whether your property is in Temple Bar, Stephens Green, Merrion Square, Smithfield, Grafton Street, or any surrounding districts, Roof Solutions is well placed to meet your roofing needs and replace or install a new roof on your property.
Choose a roofing specialist to ensure the job is done to a high standard. Roof Solutions is a family owned business with a strong emphasis on quality workmanship and integrity. To back up our work, we offer a 10 year insurance backed guarantee on all roof replacements, meaning you'll be insured even in the unlikely event that we cease trading.
Roof Solutions has over 30 years of experience. We are fully accredited and certified, and are passionate about meeting the latest safety and industry standards. Choose Roof Solutions and rest assured that safety is our priority.
Call today for a free roof replacement quote on 087 4310104
Flat Roof
Felt Roof
Tiled Roof
Asphalt Roof
Pitched Roof
Lead Roof
Slate Roof

We also offer the following services
Emergency Roof Repair
Attic Insulation
Guttering and Downpipes
Soffits and Fascias
Chimney and Valley Repairs
Commercial Roofing